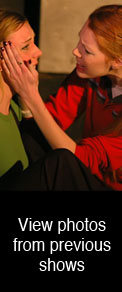 The Theatre NXS Mission
The mission of Theatre NXS is to produce works of artistic and social significance with professional expertise and creative passion, to develop an audience to support such work, to discover and develop local talent, and to establish a professional theater in Columbia, MO.
The implications of the sound of the name, "Theatre In Excess," are intentional. Theatre NXS brings a challenging, inclusive new voice to Columbia theater. It embraces music and dance as well as theater. Theatre NXS has hosted plays, bands, dance companies, variety shows, comics, business meetings, private parties, classes, meetings, recitals, raconteurs, burlesque, gender illusionists - pretty much anything you can think of Theatre NXS has hosted.
Theatre NXS seeks to draw audience members into their own experience of theater, one that will be entertaining and rewarding.